Welcome to my [old] Home Page
[ A note of late February 2017. I originally began the creation of this - my first web site - when I worked in the Mathematics Department of St. Patrick's College (Drumcondra, Dublin). It went public in the summer of 1999, and I made what I thought would be my final additions to it in August 2007, when I resigned my post as head of the college's Mathematics Department. When the college fully amalgamated with Dublin City University in 2016 my original web site was discontinued by the university, and I have only been able to preserve it - and modify in places - through the sterling efforts of a son-in-law (Fiachra Lennon), without whom none of this would have been possible. For those who might be interested this is how it was done: first Fiachra obtained a CD with the entire contents of my frozen-in-time old web site, and he created an Archive section (at my new web site). Then he introduced me to the wonders of a remarkable FREE software called FileZilla, one that enabled me to carry out the editing (e.g., repair or remove outdated web links, add new material, ... ). I will add more here from time to time. ]

[ A note of 6th Dec. 2018 2018. A truly remarkable internet discovery for me of late has been the Internet Archive. Visit there to see how it works.

Here's how I've used it: my first web site had this address: www.spd.dcu.ie/johnbcos, but that was later changed to staff.spd.dcu.ie/johnbcos. The latter ceased to exist when it was taken down by Dublin City University a couple of years ago... But - and this is the wonder of the Internet Archive - I can now see saved versions of all my early web pages by going to the Internet Archive site, enter either of the above addresses, and see ... . Try it!!

By way of example, I find at the Internet Archive site that the first recorded image of my original web site is here, at the foot of which page is stated " This page was last updated 16 February 2001 12:53:01 -0000 ". The wonders of the internet ... ]



In one corner of my this old web site (Fermat6) is an unpublished paper of mine, 'Could there exist a sixth Fermat prime? I believe it is not impossible.' At the top of that paper I wrote:
For my wife, Mary, and in memory of my parents Annie Sands (1900-1967) and Seán Cosgrave (1906-1995)
and now, as I make my final additions (at the time of original writing, August 2007) to my site, I repeat that same dedication.
Here is a photograph with my parents in it (from the left: Mum, Mrs Murray, Anne McDonagh, Dad, and Ciarán Maguire (an uncle of the renowned Irish chef, Neven Maguire) at their school in Bailieboro, taken in the early 1960s; and here is one of my mother's garden - a beautiful place - at the back of our home in Henry Street, Bailieboro. Dad did some gardening - always in a suit - but it was Mum's garden. I used to love climbing those trees at the bottom of the garden. Once, when I was perhaps ten years old, with a nearby tree (which I later tried to paint, in London, when I was a student there), I turned my back on it, and wondered if it was still there... I tried turning quickly to see if I would find that it had gone away... Many years later I read somewhere - in Bertrand Russell? - that others had done that over the years. And here is that tree, in a photograph I took recently.

There are many more photographs of my parents, family, and friends in the Autobiography corner of my web site.

A note of Easter Monday, April 2017. My wife and I swim at Seapoint almost every day, and recently I got into a chance conversation there with the artist John Short, who kindly gave me permission to insert the following painting of his here at my web site:


" Do not be too concerned about your current disappointment. The best that any mathematician can really hope for is to prove some first class theorems and have them understood and appreciated by a few good mathematicians ... "
Kazuya Kato's PRIME NUMBERS poem sums up my own feelings about them.



A fiftieth anniversary edition of Constance Reid's FROM ZERO TO INFINITY was published in January 2006 (there is a delightful Notices of the American Mathematical Society review by Bruce Reznick here). I was absolutely delighted that Constance Reid quoted from a September 1999 email of mine in her two new pages 'What mathematicians and teachers write about FROM ZERO TO INFINITY.' That 1999 initial contact with Constance Reid resulted from an August 1999 email that I sent to the Number Theory Mailing List. To see what Constance quoted you will have to buy her wonderful book, the book that determined the course of my mathematical life. I shall always treasure the signed copy of the 50th anniversary edition which Constance sent to me. (Here is the cover of my 1959 copy.)


My author royalties from the sale of Folding Landscapes' A Prime For The Millennium booklet (an explanatory email to my niece Jo and nephew Ben) go to the Irish Cancer Society. See the Millennium prime booklet section of my site for further details.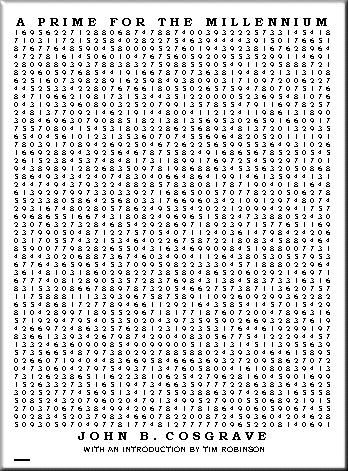 A painting by Leeds based artist Tom Marine of the 2000-digit prime was purchased by Turlough Sheehan (Director of Consolidated Distributions Services Ltd.), knowing that Tom would divide the entire amount between the NSPCC (UK) and the Irish Cancer Society. I gave the background to that sale in An Irishman's Diary column (written by me), published by the Irish Times on Tuesday 22nd February 2000. The unedited version of my column article (which contains a reference to D.H. Lehmer, which was omitted in the Irish Times edited version) may be viewed in the Irishman's Diary section of my site.

A review ("I loved this book. It is unique and wonderful") by Jerry Verrier which appeared in the Galway Advertiser on Thursday 17th February 2000 may be viewed here.

A brief review ("The booklet is charming, the story well told") by Fernando Q. Gouvêa in the Mathematical Association of America web site may be accessed here.

Please tell your family, friends, neighbours (in the USA your neighbors), colleagues, ... about this booklet. Buy a copy for yourself, your family, your friends, your neighbours, ... . If you want a signed copy, at no extra charge!, just ask ... , but you will have to be here in Dublin. Our own signed copy from Tim and Máiréad.

A photograph taken by my wife, Mary, at the Kenny's Bookshop launch on Friday 3rd December 1999 of A Prime For The Millennium; left to right are unknown, myself, Tim Robinson, and Tom Kenny's left elbow.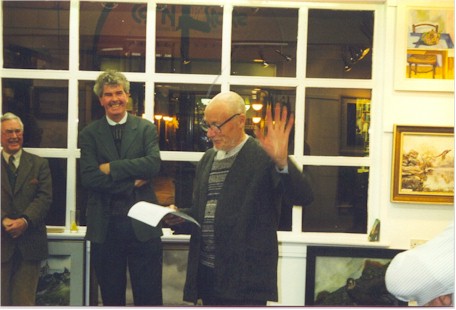 There is another photograph from the Kennys launch in the Photographs section of my site.
BAILIEBOROUGH (A PICTORIAL PAST), by Leslie McKeague, is a wonderful tribute to my hometown of Bailieboro(ugh), County Cavan.