This section (which I began around the year 2000) of my web site is aimed at bibliophiles, and attempts to address the problem that we all face: where can I get a copy of that book?...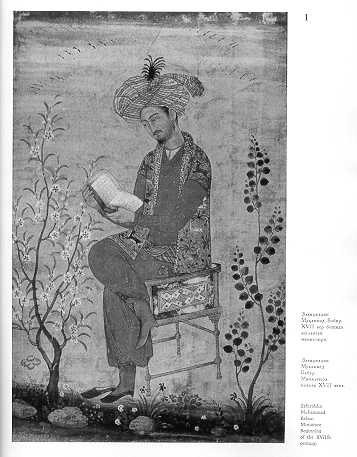 Babur (Zahir-ud-din Muhammad Babur Padshah,
the founder of the Mughal dynasty of India) reading, from
SULEIMAN, HAMID. Miniatures of Babur-Nama
Tashkent, 1970. 155pp. 96 illus. in colour. Cloth


I am not concerned here with the problem of finding currently available books, but only with the problem of finding rare or secondhand books. I present some sites that I hope will be of help to you.

Note of March 2017. Now that I have begun an edit of my old web site I have decided to greatly reduce this part of it. In the years since 2000 search factilies have greatly improved to such an extent that this corner of my site is almost redundant. However I have decided to retain it, and continue to maintain the ABE link, one that has served me well over the years.
Advanced Book Exchange A great find in August 2000. This ABEBooks.com site - the central organisation for a few thousand individual bookdealers - has a remarkably useful search facility, and I mention - by way of example - that through it I found a rare (only 250 copies printed, on fine paper) 1939 edition of Annie Besant's An Autobiography (autographed by George Arundale - husband of the renowned Indian classical dancer, Rukmini Devi - who wrote an extensive introduction to the 1939 Madras edition).

By clicking here you may search by country to see who is a member of the ABE.

Members of this exchange from whom I have obtained books, and whom I would like to personally recommend include:

Naughtons Books, Dun Laoghaire, County Dublin, Ireland (a short cycle ride from where I live in Dublin)

Anthony C. Hall, Staines Road, Twickenham, England

MonkeyBooks, Jacobstown, NJ, U.S.A. 08562

Fortune Green Bookshop, 74 Fortune Green Road, London, United Kingdom NW6 1DS





The renowned Bernard Quaritch Ltd. (London) have developed a database of rare and antiquarian books

Biblio.com have a database of over 2000 bookdealers in 20 countries
Contact details. jbcosgrave at gmail.com